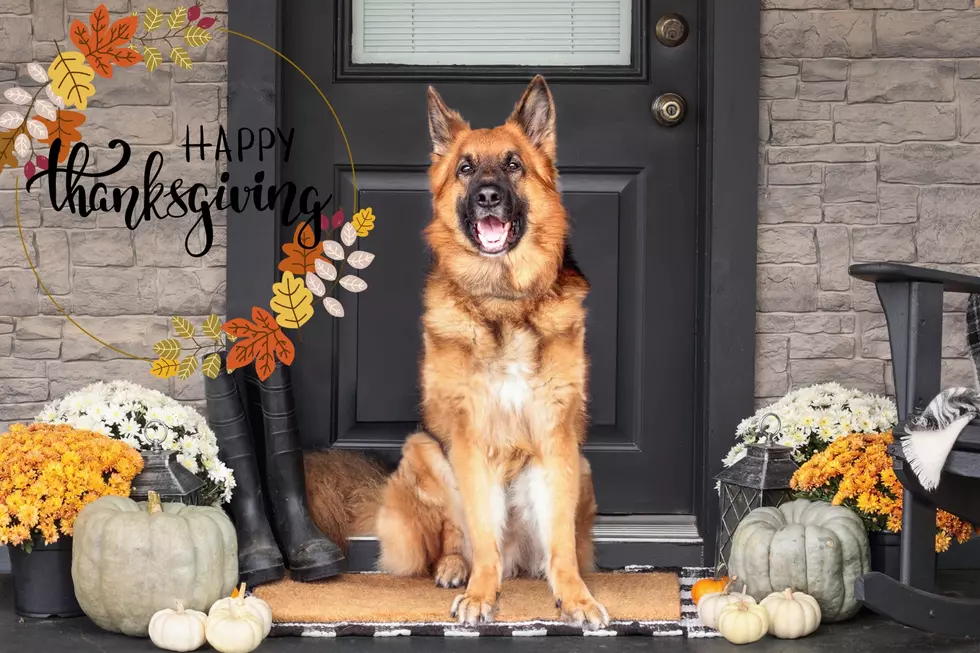 Avoid the Table Scraps This Thanksgiving as These Popular Foods Are Poisonous to Dogs
Canva
It's okay to want to give your dog an extra treat around the holidays, but these common foods should be avoided. 
Thanksgiving Comfort Food
Thanksgiving is this week, and I cannot wait to enjoy a delicious meal with my favorite people.  While Thanksgiving is a holiday that involves indulging in our favorite comfort foods, we may want to spoil our pets a little too, I mean hey, it is the holidays! However, there are some foods that are very common to find around the Thanksgiving dinner table, that can actually be poisonous to our pets.  There's nothing worse than a trip to the emergency vet, so make sure Fido steers clear of the following food.
Toss Your Cooked Turkey Bones
When carving the turkey you may be tempted to give your dog a bone from the turkey to chew on, and what's the harm?  Dogs and bones go together like peanut butter and jelly! Except that's not the case for cooked bones,   Cooked bones can easily splinter and can actually cause some serious damage to a dog's digestive system.  So if you want to treat your pup to a bone this Thanksgiving, get your dog a safe one from the pet store. PetMD.com has more information on bones you should avoid giving your dog, here.
Alcohol isn't For Pups
First off, I highly doubt your dog is even of legal age to drink, as not many pups (this is devestating) make it to 21 years of age.  However if you are of age and will be indulging in a delcious adult beverage wtih your Thanksgiving dinner, make sure you don't give any to your dog as alcohol is actually really bad for them.  Hillspet.com has more on why alcohol is bad for dogs, here.
Onions, Onion Powder, and Diced Onion Are Toxic to Dogs
I'm one of those people who can't have enough onions.  If something calls for one diced onion, you can bet I'm going to add at least two.   However, as delicious as onions are, and as much as they add to our dishes, onions are actually extremely poisonous to dogs.    According to AKC.org "all parts of the onion plant are toxic to dogs, including the flesh, leaves, juice, and processed powders. Raw or cooked, fried or powdered" so if a food even contains onion powder, or diced onions, as many Thanksgiving dishes do, it's still not safe to feed your dogs.
Garlic-Bad for Vampires, and Dogs
Listen, my garlic meter is broken.  If a dish calls for garlic, I simply measure with my heart.  Many delicious classic Thanksgiving dishes call for garlic, and if there is garlic in the dish, then it's dangerous for your dog.  According to PetPoisonHelpline.com garlic is a part of the allium family like onions, except garlic is 5 times more potent than onions.  So keep the garlic away from the pups.
Sweet Treats That Are Bad For Your Dog
This time of year our dessert tables are a little fuller than normal (and that's not a bad thing)!  Many of us are baking up some of our favorite treats to serve at Thanksgiving dinner, however it should be known that there are a few common ingredients in desserts that are toxic to dogs.   Macadamia nuts, nutmeg, and chocolate are three of the top ones that if ingested, can be extremely dangerous to pups.
What To Do If Your Dog Ingests Something Toxic to Them
We try our best to keep our pets safe, but sometimes accidents happen. If your pet happens to get a hold of any of the foods above or they ingest something that has you concerned, the ASPCA has a 24/7 animal poison control line (888) 426-4435.  This line you can call and they will help guide you on what to do if your pet ingests something that isn't good for them.  Have a safe and happy Thanksgiving (both you and your furry family)!
KEEP READING: Here are 6 foods from your cookout that could harm your dog