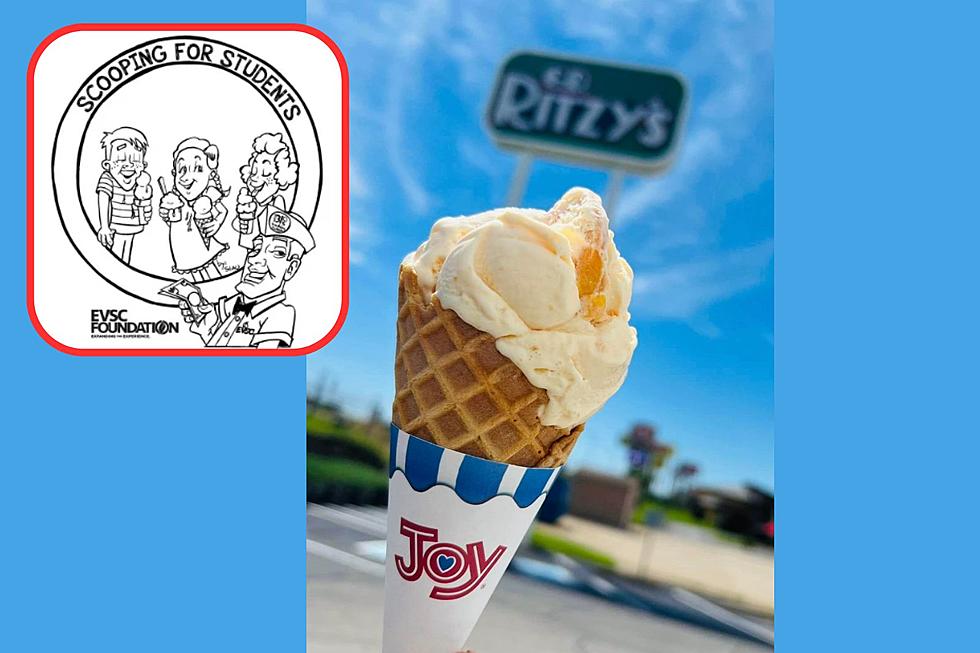 Scooping for Students: Local Ice Cream Shop Serves up Support for EVSC's Hangers
Photo by EVSC FOUNDATION GD RITZY'S
What do you get when you pair delicious hand-dipped ice cream and local celebrities? A super fun way to raise money for a vital part of hundreds of Evansville students. I'm talking about the 13th Annual Scooping for Students event!
What is Hangers?
Hangers is a program of the EVSC Foundation that serves as a clothing resource center for all EVSC students. When I was in school, some students were offered free or reduced-priced supplies. Hangers goes way above and beyond that, filling the needs of students that you might not even think is an issue.
Scroll down to Make an Online Donation
Not Just Clothing
When a student is in need of the services from Hangers, they have the opportunity to shop for school uniforms and spirit wear. But that's just the beginning. Students who are in need of personal hygiene products like shampoo, soap, deodorant, feminine products, and other essentials are given whatever they need. This can make a huge difference in a student's attitude, and build self-confidence.
Here is a list of the items are are currently sweating about having for our students: Hygiene, hygiene, hygiene! Even after we had several groups doing hygiene drives for us this summer, we are still out of men's 3-in-1 shampoo, women's shampoo, men's and women's deodorant, bar soap, full-size toothpaste, individually wrapped toothbrushes, and feminine hygiene pads. (pads only) Boys size 5, 6, 7, and 8 jeans and athletic pants. Girls size 7/8 and 10/12 long-sleeve t-shirts. Like the record heat, we are heading for record numbers of students in need. For a reference point, just 10 years ago, Hangers would serve about 900 students for the entire school year. We will have served more than 900 students by the end of August this year. We are open for donations from 8 a.m. to noon, Monday - Thursday.
Eat Ice Cream - Help Students
No this is a win-win! The 13th Annual Scooping for Kids fundraising event will be hosted by the Eastside G.D. Ritzy's. This is the first time that G.D. Ritzy's has been a part of this exciting fundraiser, and we are so glad that they are on board. Thursday, September 14, 2023 2 PM-8 PM G.D. Ritzy's 601 N Green River Road, Evansville
Online Tip Donations
You can go ahead and donate securely online. Simply follow THIS LINK. Fill out your contact info and the amount you would like to donate. Make sure you check the HANGERS box, and in the ADDITIONAL COMMENTS, please list BOBBY & LIBERTY from MY 105.3 WJLT.
Read More: There's No Place Like Hangers; The Story of a Life-Changing Dress
Read More: Evansville's Hangers Shares Touching Story of One Pair of Shoes
16 Evansville Restaurants Residents Recommend for New College Students
Regardless of what you're in the mood for, any of these of restaurants will hit the spot.
Celebrities With Famous Parents
From Kate Hudson to O'Shea Jackson Jr., we've rounded up 25 celebrities you probably had no idea also have famous parents.