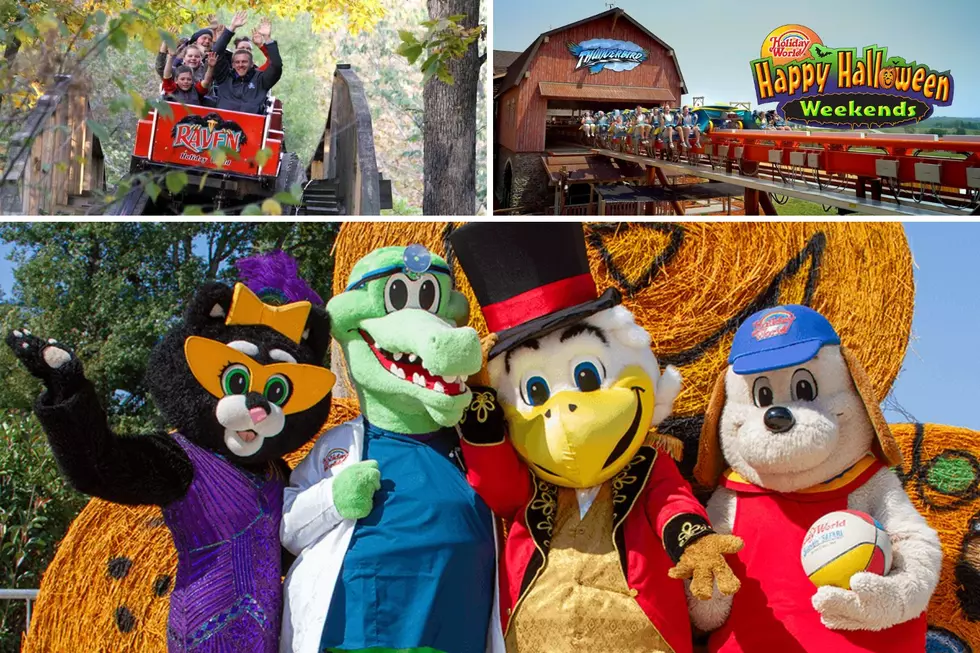 Play 'Holiday Whirled' for a Chance to Win Holiday World Happy Halloween Weekends Tickets
Holiday World
This has been a pretty amazing season for Holiday World & Splashin' Safari - beautiful weather and thousands of people from all over the place enjoying some of the best rides in the world. And the fun isn't over just yet - the 2022 season continues through the end of October with Happy Halloween Weekends, and we still have plenty of chances for you to win tickets.
Holiday World's transformation into Happy Halloween Weekends includes a whole bunch of family-friendly fall fun (you gotta love alliteration):
The SCAREbnb funhouse. which features Marilyn's Mansion, Dracula's Den, Frankenstein's monster, and more. Holiday World promises the SCAREbnb is "just spooky enough to tingle the spine, but won't terrify even the weariest of travelers."
Holidog's 3D Halloween Adventure
Professor Holiday's Wacky Workshop of Wonders
Kitty's Dance Spooktacular at Hoosier Celebration Theater
Carnival Chaos
12 acres of corn mazes and hayrides
And speaking of rides - you can still enjoy all of your favorite rides and coasters at Holiday World.
This week we are giving away tickets with an app-exclusive contest called Holiday Whirled. Before I explain how the game is played, I need to make sure that you have the MY105.3 app - you can't play without it. Download the app here and make sure the "Exclusive" notifications are turned on.
How to Play 'Holiday Whirled'
Now that you have our app you can start playing Holiday Whirled. Think of this game as a Holiday World-inspired version of Jumble. You remember Jumble, right? Words or phrases are mixed up and you have to unscramble them to reveal the real word or phrase. Here's an example...
Clue = YAILHOD RDLWO
Answer = HOLIDAY WORLD
We will send an Exclusive app alert each morning this week with a mixed-up word or phrase related to Holiday World's Happy Halloween Weekends. Send us an AppChat with your guess and you'll be qualified to win a pair of tickets. We will randomly select a winner from all of the correct guesses each day. Good luck!
25 Must-Try Rides at Holiday World & Splashin' Safari
See Renderings of Compass Commons - Holiday World's Team Member Housing
The
Compass Commons
project will offer affordable housing for qualified seasonal Team Members working at Holiday World & Splashin' Safari. It is expected to be complete in May 2023.