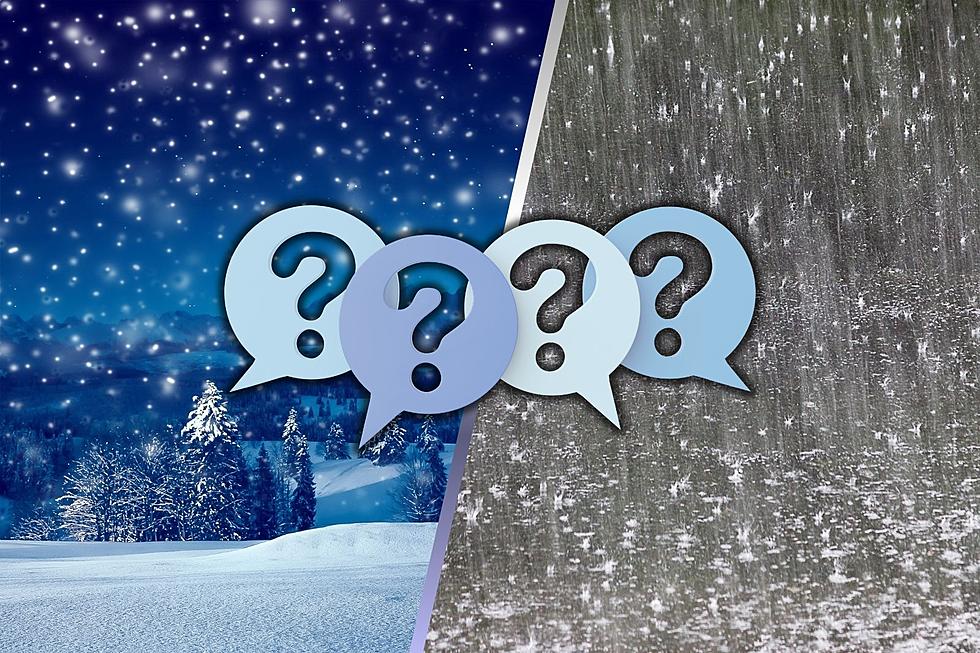 Snow or Rain in KY Next Week? DCEMA Wants to Know and Here's Why
Canva
So far this fall, it has been smooth sailing. We've been in tall cotton. Pick your positive cliché; it applies. As my family always when we find the perfect parking place, "Who says we ain't livin' right?"
Why Daviess County Emergency Management Wants Our Rain/Snow Prediction
But now--or at least next week, possibly--the rubber may be hitting the road. (Oops, there's another cliché.) And snow fever in Owensboro and Daviess County--and maybe even the rest of western Kentucky--descended when the Daviess County Emergency Management Agency posted this:
So yeah, if you clicked that link, you have a shot at a sweet gift from the DCEMA, but let's take a closer took at where they're coming from. (By the way, kudos for the Clash reference.)
What Is the National Weather Service's Outlook for the Coming Week?
According to the National Weather Service, we ARE expecting a pretty decent rain event in the coming week.
Personally, that makes ME vote in the "it will rain" column. And yes, part of that is because I'm not ready for snow yet, even though we've had it earlier than now many times in the past.
Is Snow Even a Possibility in Western Kentucky and the Tri-State?
I actually couldn't find any predictions for snow next week, so I consulted the team at Eyewitness News - WEHT/WTVW and checked the seven-day forecast (as of 11:19 AM, 11/17/23). I can see why some MIGHT think snow is a possibility, but look closer.
I see 32 degrees and I see 25 degrees. (In fact, warming shelters have already been announced.) But both of those numbers seem to be beyond when all the precipitation is predicted. And 14 News Chief Meteorologist Jeff Lyons has gone so far as to post this...and I agree with him:
I have no doubt ALL meteorologists feel this way about armchair prognosticators.
So, with all that said, I'm gonna go ahead and stick with "it will rain."
Now where's my radio?
LOOK: 50 cozy towns to visit this winter
Stacker
created a list of 50 cozy American towns to visit each winter. Towns were selected based on visitor opinions, ratings from nationwide publications, and tourist attractions.
Gallery Credit: Laura Ratliff
LOOK: The most extreme temperatures in the history of every state
Stacker
consulted 2021 data from the
NOAA's State Climate Extremes Committee (SCEC)
to illustrate the hottest and coldest temperatures ever recorded in each state. Each slide also reveals the all-time highest 24-hour precipitation record and all-time highest 24-hour snowfall.
Keep reading to find out individual state records in alphabetical order.
Gallery Credit: Anuradha Varanasi