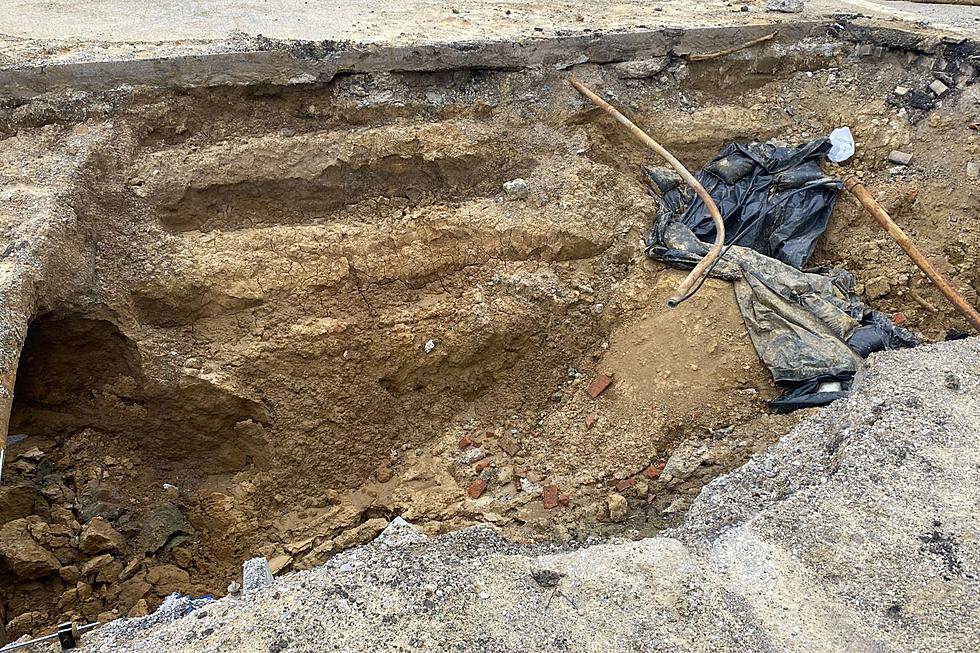 Construction Crew Unearths Human Remains During Sewer Work in Southern Indiana
Townsquare Media
Construction crews working on a large sewer project in downtown Evansville had to stop work on one section of the project after discovering human remains buried under the street.
14 News was the first to report the discovery on Thursday, saying the remains were found under Vine Street near the intersection with 4th Street by the Old Vanderburgh County Courthouse.
The Area Was Once a Cemetery
Evansville was founded in 1812 as a river town by Hugh McGary, Jr. who initially called the slightly over 440 acres he purchased (the area now known as downtown) McGary's Landing. Five years later, in 1817, in an effort to attract more people, he renamed the land Evansville after Colonel Robert M. Evans, an officer in the War of 1812 who went on to serve in the Gibson County legislature.
McGary reserved one of those 440 acres as a cemetery for the purpose of being the final resting place of the city's early residents, which would eventually include his wife, Mary, and two of their children.
A plaque marking the historical significance of the area is posted on the lawn of the Courthouse.
The inscription reads:
Located in the vicinity of N.W. Fourth and Vine Streets, this cemetery is the earliest documented cemetery in Evansville-ca. 1816-1829. In the 1818 donation enlargement to Evansville, Colonel Hugh McGary, Jr. reserved a one-acre parcel here for a cemetery. Buried here are McGary's wife Mary "Polly" Anthony McGary and two of their children, Amandah F. and an unnamed child, as well as other early Evansville residents. Though some may have been moved, many still lie in unmarked graves. We now recognize this as the final resting place of our honored pioneers.
Coroner Calls the Find an "Archeological Discovery"
In a statement to 14 News, Vanderburgh County Coroner Steven Lockyear called the find "an 'archeological discovery'" and "not that uncommon." He went on to say an archeologist has been hired to investigate the area and will submit their findings to the Indiana Department of Natural Resources. Until that process is finished, construction crews will no longer work on that section of the project but will continue working in other areas around it.
[Sources: 14 News / Brittanica / Posthouse Evv]
See How Downtown Evansville Has Changed Over the Years
I find looking back on the way things used to be fascinating. Don't get me wrong, I'm glad I'm living through the current time period. The conveniences of answering any question we have in seconds, or ordering practically anything we want or need and having it delivered to our doorstep is pretty sweet. But, there is something fun about seeing how things around us have evolved. As an Evansville native, and spending quite a bit of my time in downtown Evansville (that's where the station is located), I've always appreciated the older architecture of the buildings around the area. So, I dug into the Willard Library Archives to see how a few of those areas look now compared to then. Some have changed a little, others quite a bit, and a few don't even exist any more. Take a look.
25 Hidden Evansville Secrets That May Blow Your Mind
An Evansville resident recently posted a question in the "I Grew Up in Evansville, Indiana"
Facebook group
asking other members to share any hidden or little-known facts about our city not many residents would know. The answers were wide-ranging, covering everything from our manufacturing history to our place in Civil War, to a couple of popular landmarks still standing today that were the first in the entire state of Indiana. No matter how long you've lived here, chances are there will be a few things on this list you didn't know about the city we call home.