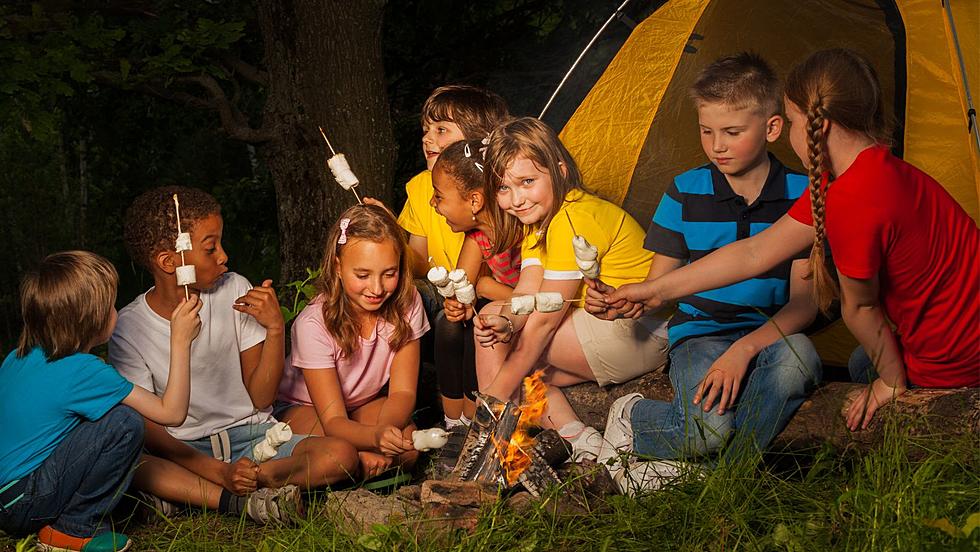 Take A Kid Camping Free Event at Panther Creek Park in Daviess County, Kentucky
CANVA
I LOVE to camp. Growing up, my parents let me keep a tent up in the backyard so I could go out whenever I wanted. I would take out my pillows and sleeping bag to read Tiger Beats and listen to CDs on my Discman. Lots of Shania Twain and NOW! That's What I Call Music! compilations. My birthday parties for like four years in a row were sleepovers in tents in the backyard. I bet we kept the Town & Country neighborhood up all night. Sorry neighbors!
We have camped with Rollins a few times and he loves it too. He is not a fan of bugs and mosquitos, but if we can keep them away, we are golden. The last time I went camping, I woke up with a smashed cave cricket in my bra, but I have just tried to block that from my mind!  I love making memories with him roasting marshmallows and telling ghost stories with flashlights. Screens are such a big part of all of our lives now, it's a great way to unplug and spend time outside with Mother Nature. We all need more of that.
Kids Outdoor Adventures Daviess County is hosting a night to Take A Kid Camping for FREE at Panther Creek Park out Highway 81 in West Daviess County. Starting at 6 PM, you and your kiddo will enjoy all of the outdoor activities planned like Nature BINGO as you explore the trail or play on the playgrounds. There will be prizes for the winners!
All you have to bring is your camping gear and food. S'more supplies will be provided though! Roast your marshmallows at the community campfire to make some new friends and memories Hopefully, your family will leave with a new outdoor hobby you can enjoy together for years to come.
Register for your tent spot by calling the Daviess County Conservation District at (270) 685-1707 Ext. 3.
Popular Child Stars From Every Year
Below,
Stacker
sifted through movie databases, film histories, celebrity biographies and digital archives to compile this list of popular pint-sized actors from 1919 through 2021.