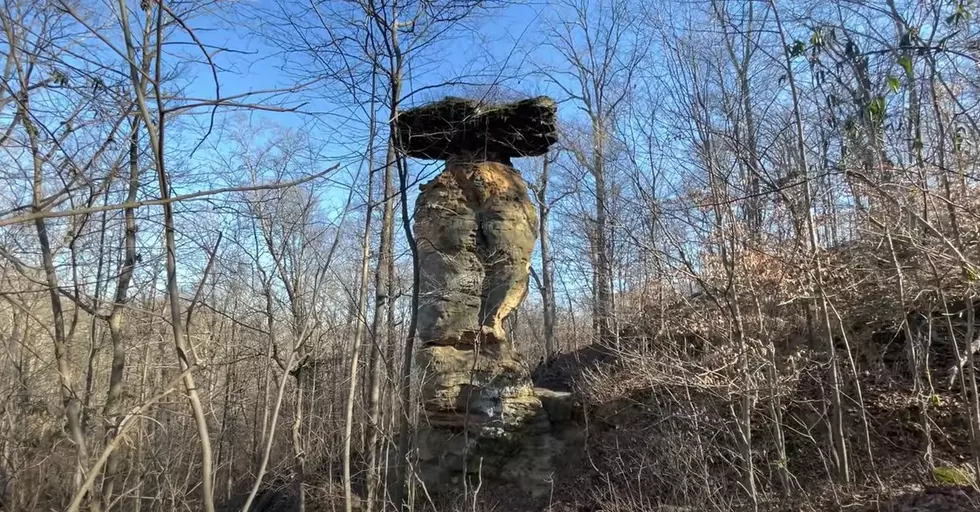 Southern Indiana is Home to a Strange Geological Wonder That Stands 60-Feet Tall
YouTUbe
Nestled in the woods sits a puzzling rock formation that leaves more questions than answers. 
.
The Largest Free-Standing Table Rock Formation East of the Mississippi River
Indiana is not exactly known for its rock formations.  Sure we have some gorgeous scenery around the Hoosier state, and Indiana is home to some intriguing hidden gems (have you ever heard of Indiana's own Stonehenge?), but this hidden gem, while not exactly "gorgeous" is really freaking cool.
Have you ever heard of Jug Rock?
Over the weekend my husband and father-in-law were talking about a recent work trip my husband went on to Seymore, Indiana.  When they were talking about the area my father-in-law said "oh did you pass Jug Rock?"  and my husband said "oh yeah we saw that on our way up"  to which I chimed in with an "I'm sorry, what is Jug Rock?"  and that's when I learned that Indiana is home to a super cool geological find!
A Geological Anomaly
Located in Shoals, Indiana sits a rock formation that looks out of place, because it sits in the middle of a densely wooded area.  Standing over 60 feet tall, it's kind of hard to miss Jug Rock, which was named over 150 years ago because it's kind of shaped like a jug.

VisitMartinCountyIndiana.Com has this to say about Jug Rock:
The free-standing, rare table rock formation known as the Jug Rock. The Incredible natural geological rock formation, Jug Rock, composed of sandstone, located in Shoals near the East Fork of the White River.

 

As the largest free-standing table rock formation (also called a "tea table") in the United States east of the Mississippi River, the Jug Rock has created a great deal of interest in geological circles. One of the earliest accounts known to us was published in 1871 in the Second Report of the Geological Survey of Indiana by state geologist E.T. Cox.
A Puzzling Formation
Jug Rock isn't exactly what we'd call "pretty" but it's still really cool.  Who knew Indiana was home to a rock formation that's oddly nestled in the woods?
Visit Martin County Indiana, calls Jug Rock one of the most puzzling rock formations in the country.
Jug Rock, overall dimension is 60′ high and 20′ in diameter. The Pinnacle is the front part of the original sandstone formation that eroded to form Jug Rock. Jug Rock stands alone with no adjacent ledge, which classifies it as one of the most puzzling formations, known as "Stand Rocks," in the United States.
If you'd like to visit Jug Rock, you can find detailed instructions on how to find it through RoadsideAmerica.com here.

Indiana House of Bells is an Eerie Roadside Marvel
I recently heard about House of Bells on Facebook these photos by Kevin Robertson caught my eye. This place is truly an eerie roadside treasure.