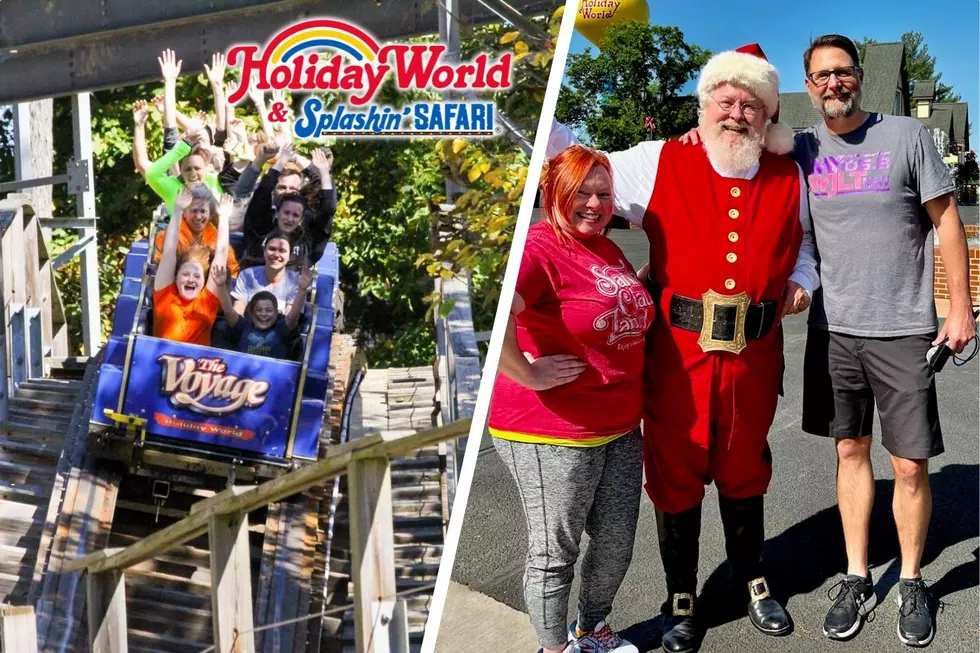 How to Play "Santa Says" and Win Tickets to Holiday World in Santa Claus, IN
Holiday World/Canva
2022 is shaping up to be a really big year for Holiday World & Splashin' Safari, and one of the biggest reasons for that is the long-awaited return of the big man in red. After spending a couple of years away (but still visiting virtually), Santa Claus is back! Liberty and I had the chance to spend some time with Santa during a recent visit to Holiday World. After chatting with him for a bit, he inspired us to come up with a fun, new game to play during the Most Totally Awesome Contest - "Santa Says."
First Things First - Do You Have Our App?
Before I explain how to play our Santa Says contest, you should know that you're gonna need the MY105.3 app. I guess, technically, you don't HAVE to have the app in order to win, but having it will give you a BIG advantage. I'll give you a minute to go ahead and download our app now. Once you have it (or if you already had it) you need to make sure you turn on the 'Exclusive' notifications/alerts - this is a crucial step to the contest.
How to Play 'Santa Says'
During our conversation with Santa Clause, we asked him several questions, and it's gonna be up to you 'guess' his answers. I say 'guess' but if you have the MY105.3 app, there's really no guessing involved - you will KNOW the answer. You see, each morning, right around 7am, we will send out an alert with the answer to our question for Santa. Once you get that alert, you need to try and be caller #5 at 812-421-1117. If you get through, all you'll have to do is give us the correct answer and in return, we will give you a pair of tickets to Holiday World & Splashin' Safari.
25 Must-Try Rides at Holiday World & Splashin' Safari