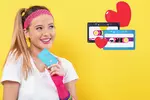 Feeling Down? 'Feel Good 80s Weekends' are Here to Pick You Up
Canva
After the week I've had, I'm ready to just listen to our 'Feel Good' 80s Weekend. Getting to play all 80s music every weekend is one of the only good things to come out of 2020. Back then, we had to make hard decisions like which Teen Beat photos would make it onto our bedroom walls. So, let's just close our eyes and pretend we're there again. Oh, and if you weren't born yet, just ask your parents!
Remember, we can go with you everywhere with the MY 105.3 App, enable the Alexa skill, or stream us through your Google speaker. If you're streaming the app, you can use your Bluetooth to listen on your portable outdoor speaker. That's actually my go-to when I'm grilling. I have a boom box type speaker with cup holders and it even has wheels!
Smart Speakers
Amazon Alexa
Download the Alexa app (find Apple version link or the Android version link).
Select "Skills" from the main menu of the app
Search for [MY 105.3]. Tap on the station logo to get the [MY 105.3] skill
Once you've enabled the skill, just say, "Alexa, play [MY 105 3 WJLT]."
Find more information and support for listening via Amazon Alexa devices here.
Google Home
Our station app is Chromecast-enabled for Google Home. Follow these easy steps:
Confirm that your phone or tablet is connected to the same WiFi as Google Home.
Open our app. You can download it here.
Tap the Cast button. 
If you have more than one Google Home speaker, you'll need to choose which one you'd like to play to.
You will know you are connected when the Cast button turns from light to dark gray.
To stop casting, tap the Cast button again (it will appear at the top of your device).
Find more information on listening via Google Home here.
Enter your number to get our free mobile app
Comparison: Back to the Future DeLorean vs Standard DeLorean
Vintage Disney: Step Back in Time Inside Retro Disney Store