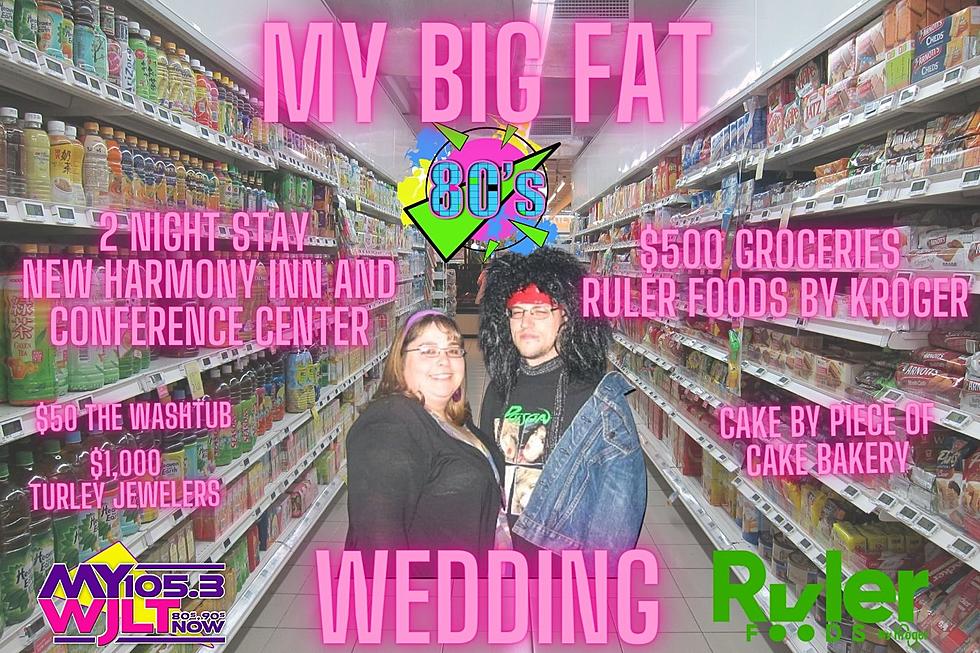 Evansville Couple Wins MY Big Fat 80's Wedding – To Exchange Vows On-Air
RACHEL DOSS / CANVA
We are so excited to announce the winning couple of The 4th Annual MY Big Fat 80's Wedding - Presented by Ruler Foods and New Harmony Inn Resort and Conference Center.
Ladies and gentlemen...The winning couple is...Rachel and Chris! Rachel submitted their love story literally at the last minute and it paid off. Not only are we taking care of the wedding details they are picking up quite a lot of prizes, too!
MY Big Fat 80s Wedding Package
Rachel & Chris's Love Story
"My fiance and I have been together for 28 years in November of this year. We have a 12 yr old (soon to be 13) son together. We met in the '90s while working together at Venture (where the home store is now). We have always wanted to get married, but life has always had other plans. It's been a rough past 6 years since my father passed away. I wanted him to walk me down the aisle, with him gone I just wasn't sure I could do it. We are HUGE 80's fans! An 80's wedding would suit us to a tee!"
Wedding Details
The event will be BIG, and we will be announcing some exciting news about that very soon.
Just in case your invitation to the wedding gets lost in the mail, you're still invited to watch and/or listen to this year's ceremony. We will broadcast it live on MY105.3 and it will be live on the MY105.3 Facebook page. We will also share the video on our YouTube channel once it's all said and done.
Take a look at our past Big Fat 80s Weddings
Evansville Area Wedding Reception Food Truck Guide
We are very lucky to have such a wide variety of food trucks serving the Evansville area. This list contains the majority of the food trucks and their menus that offer their services for weddings. Some of the vendors may offer different menus for your event. Please contact them directly to inquire.
10 Ways to Relax in New Harmony, IN
New Harmony, Indiana reminds me of Stars Hollow, the quaint town featured in 'The Gilmore Girls.' This historic community is also referred to as a Utopia. There is a lot to see and do, and there are certainly some spots to unplug and relax.