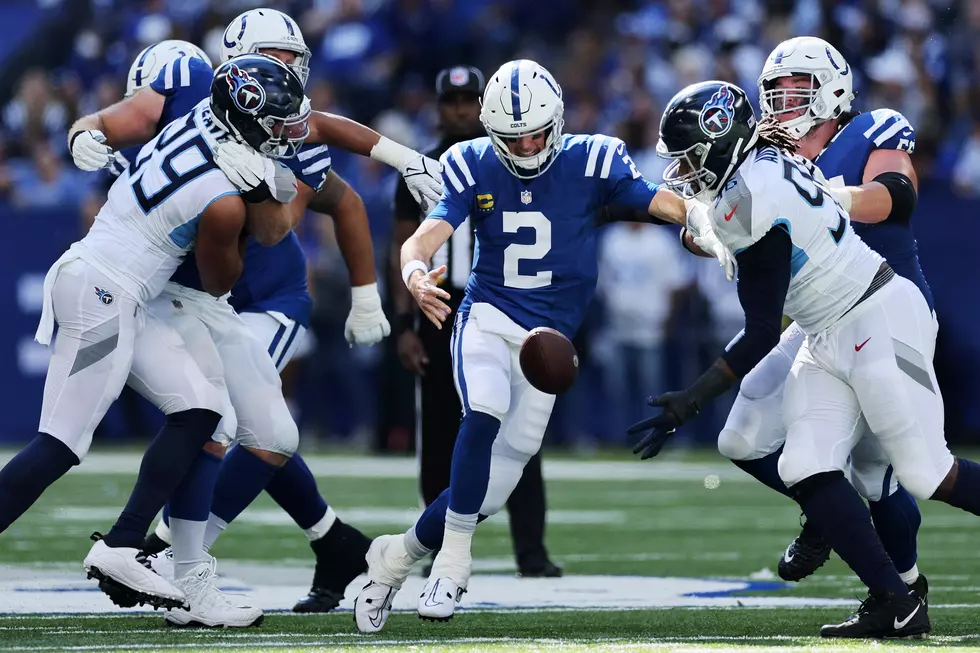 Time to Face the Facts Indianapolis Colts Fans, Our Team is Terrible
Getty Images
Hope. I had hope once. Not that long ago, actually. This summer, before the start of the 2022-23 NFL season, the Indianapolis Colts gave me hope. I read the daily reports from the Indianapolis-based reporters who cover the team for their respective media outlets on Twitter and saw how quarterback Matt Ryan was orchestrating the offense. How the rookies were showing off the skills that convinced the team to select them in this year's draft. How the veteran players talked about being hungry and focused after the way last season ended. I read it all, and it gave me hope. Hope that the team was hungry to prove that last year's ending is not who they truly are, and they were ready to run roughshod over every team in front of them. Now, four games into the season, that hope is all but gone.
It's Time to Come to Terms with the Fact the Indianapolis Colts are Not Good
Before I go any further, let me be clear about something. I'm not an analyst. I don't review game film before or after the fact, I'm simply a longtime fan who's mad that I have once again allowed this team to give me hope and happens to have a platform other than social media to vent about what I've watched the past four weeks. With that said, if you too are a fan, you didn't expect their current record to be 1-2-1. You think it should be 3-1 (who would have thought they would beat the Chiefs before the start of the season?) or at the very least 2-2 (losses to the Chiefs and Titans). You thought they'd be leading the division or at least tied for first with Tennessee through the first quarter of the season. Instead, we have a team with really talented players (a league-record seven Pro Bowlers last season, all of which are still on the team) who look like they have no clue what they're doing when they're on the field.
The highest-paid, and often thought of as one of the best offensive lines in the entire league consistently struggles to protect Matt Ryan, or open lanes for one of the best running backs in the league, Jonathan Taylor. Ryan can't hold onto the ball. The defense has had a few bright moments here and there (the entire Kansas City game, for example), but rarely seems to get a stop on third down, especially when they absolutely need to have it. The list goes on and on. I'm not telling you anything you don't already know. You watch the games. You know what I'm talking about.
Who's to Blame for Yet Another Poor Start to the Colts Season?
The short answer is, everyone. The players, the coaches, upper management, all of them. Again, I'm not telling you something you don't already know or haven't thought of yourself.
Maybe some of the blame falls on us fans as well. Those of us who have followed the team long enough were spoiled by the Manning Era when the team was consistent Super Bowl contenders for a decade. Then, following the horrendous 2011-12 season when Manning was out with his neck issues, Andrew Luck galloped into town to right the ship and lead us to the promised land yet again until the previous GMs lack of providing adequate protection got him beat up so bad he decided to retire after a seven-year career.
With that said, I won't put too much blame on us. We simply bought into the hope the team sold us because that's what being a fan is. And we continue to do it every year. After what I've seen so far to start this season, I'm done buying.
My wife and I were at the game against the Titans on Sunday. Like a fool, I went into the game with the hope that after the big upset win against the Chiefs the week before, the team had finally exercised the demons and figured it out. Instead, I left there fuming, wondering why I spent a couple of hundred bucks on tickets, plus gas to get there and back from Evansville, some beers, and some food just to have them kill that little glimmer of hope they had ignited the week before.
Now, despite all I've said, that doesn't mean I'll stop watching. Although it does mean it might be a while before I go watch a game in person at Lucas Oil Stadium. I can watch them play like garbage from home. Plus, it's much cheaper. What it means is that I'll watch every game moving forward with little to no hope the team is going to look consistently competent. That way, when they live up to that expectation, I won't be disappointed.
TACKLE THESE: Check Out the Best Uniforms In Each NFL Team's History
30 famous people you might not know were college athletes
Stacker
dug deep to find 30 celebrities who were previously college athletes. There are musicians, politicians, actors, writers, and reality TV stars. For some, an athletic career was a real, promising possibility that ultimately faded away due to injury or an alternate calling. Others scrapped their way onto a team and simply played for fun and the love of the sport. Read on to find out if your favorite actor, singer, or politician once sported a university jersey.