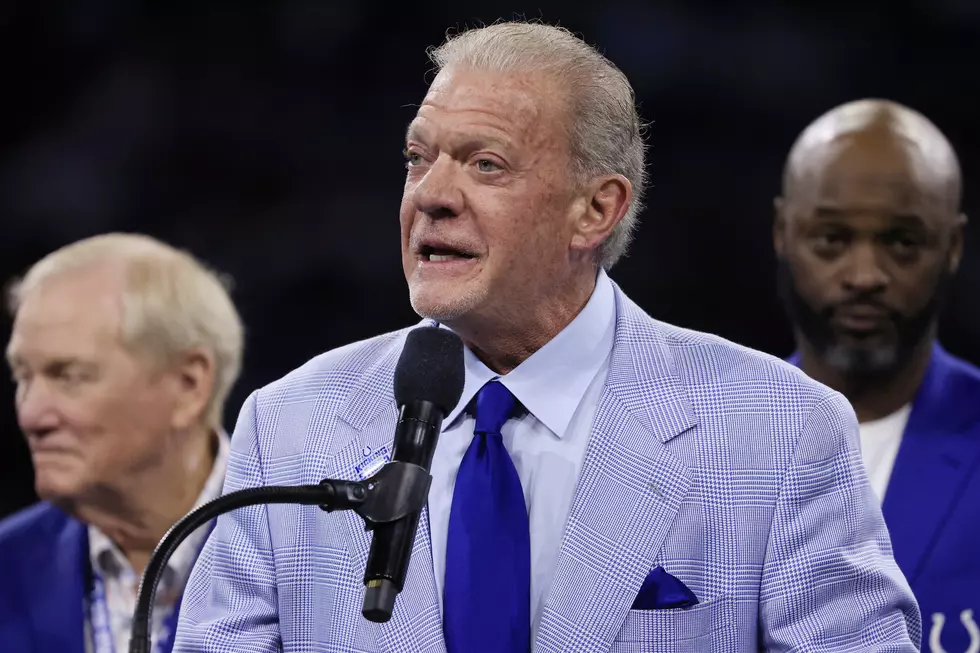 Indianapolis Colts Owner Issues Statement on Horrendous 2022 Season
Getty Images
Bad, ugly, pathetic, terrible, miserable. Those are all words I used to describe the 2022  Indianapolis Colts as I sat and watched them play every week of the season. Although, each of those words was usually preceded by a word that rhymes with "ducking." It was frustrating to watch as a fan, and based on a statement released by Jim Irsay last week, it was incredibly frustrating to watch as the person who owns the team.
2011 All Over Again, Only Worse
I will argue until I'm (Colts) blue in the face that the season we just witnessed was far worse to sit through than the 2011 season. In case you don't remember, 2011 was the year Peyton Manning was sidelined the entire season with a neck injury. Why was this season more painful to watch? I'll answer that with one word — expectations.
Once the news came out that Manning would not be taking the field at any point during the season, all expectations for a successful season and another playoff run went to zero. That team had several talented players but without its most valuable one, we knew it was over before it even started.
The 2022 season was different. Carson Wentz was out, and Matt Ryan was in. Granted, it was a past-his-prime Matt Ryan, but the team had one of the best running backs and offensive lines in the league. They didn't need Matt Ryan to be a hero. They just needed a QB who could complete a pass when needed and toss one downfield every now and again to keep the defense honest. The running game and the offensive line would do the bulk of the work.
But that's not what happened. Instead, we got quite a bit of this:
And a whole lot of this:
It was so atrocious, there were times I was hesitant to wear any of my Colts clothing in public because, for the first time, I wasn't proud to be a fan of the team. There wasn't anything to celebrate. There was just rock bottom after rock bottom after rock bottom. Star running back, injured. Star linebacker, injured. Offensive Coordinator, fired. Head Coach, fired. A beloved former player with no coaching experience outside of high school is appointed interim head coach by the owner. It was an absolute mess. Unlike anything this team or its fanbase has dealt with since the pre-Manning days.
The only good thing about the 2022 season for the Colts is that it's over. Now, the team can focus its attention on finding its next head coach and what it will do with the fourth pick in the upcoming NFL Draft (which better be using it to pick a quarterback). The only way to go from here is up, right? RIGHT?!?! For the sake of our sanity, let's hope so.
Jim Irsay Issues Statement on the 2022 Season
Say what you will about Jim Irsay. Is he a bit on the eccentric side? Yes. Did his (reported) decisions to fire Frank Reich, bench Matt Ryan, and hire Jeff Saturday as the interim head coach make things worse? You could make a really convincing argument that it did. But, could you also say he loves his team and is passionate about making it as successful as possible on a consistent basis? You absolutely can, and there's something admirable about that.
On Friday, January 13th, five days after his team lost their final game of the regular season against the Texans, Irsay broke his silence with a written statement on the team's website where he thanked fans for their support since the team moved to Indianapolis almost 40 years ago, and admitted that he knew watching the season unfold as it did was incredibly tough to sit through and that no one was more frustrated about it than him.
He went on to say that as the team's owner, the responsibility to make them better moving forward ultimately falls on him, and the work to do that is already underway which is evident seeing the team has already interviewed seven potential candidates for the head coach position and requested interviews with another three on Monday (January 16th), according to Kevin Bowen with 107.5 The Fan in Indianapolis.
While I appreciate Irsay's passion, his statement about the success of the team falling on him concerns me considering what happened after he got a little more hands-on midway through last season. At the end of the day, he's the owner, he signs the checks, and he has every right to get involved as much or as little as he wants. With that said, I also believe in surrounding yourself with smart people and giving them the opportunity to mold the product in a way they feel will produce the best results. Will you always agree? Of course not. And, there will be times when you have to say, "this is what I want, make it happen." While Irsay will and absolutely should be involved in the hiring and draft processes, my hope is that he can keep his emotions in check and rely on the staff he has in place to make the right decisions that will put out the dumpster fire the team seemingly has become. Because I don't know that I, or many other Colts fans, can sit through another season like the one we just witnessed.
[Sources: Indianapolis Colts / 107.5 The Fan]
LOOK: These Are the Richest NFL players
To uncover the richest NFL players,
Stacker
consulted
Celebrity Net Worth
and ranked them by their 2022 net worth, calculated using a proprietary formula.
TACKLE THESE: Check Out the Best Uniforms In Each NFL Team's History