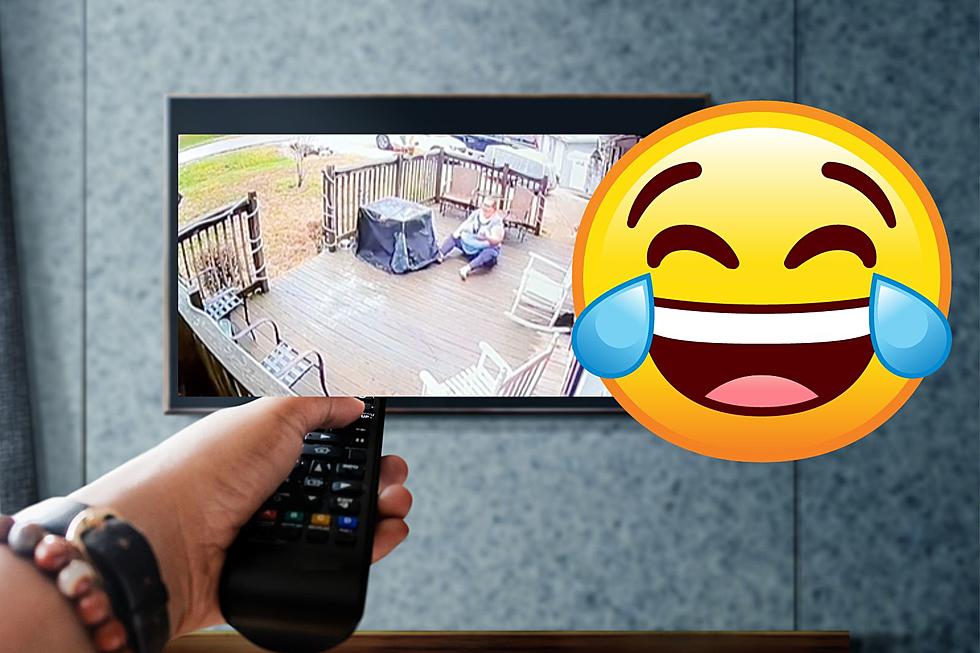 Southern Indiana Woman Slips and Falls into an Episode of AFV
PHOTO: GH | Canva
Rachel Colvin took a bit of a spill last New Year's Eve, and thanks to her family, all of America can laugh at, I mean, with her.
Yes, America's Funniest Home Videos is Still a Thing
America's Funniest Home Videos, now shortened to AFV is in its 34th season on ABC. I remember back in the day when it was almost impossible to catch someone doing something funny on video. Now, it's almost too easy. I know this first-hand from my own Ring camera that captures me doing dumb stuff all of the time.
Here's my latest kitchen mishap:
Woman Slips and Falls into an Episode of AFV
Last Sunday's episode of AFV featured some unfortunate spills. One of the Honorable Mention clips was caught on camera on December 31, 2022, in Posey County. My buddy Garrett (You'll see him at all Raptor Con events) shared this video, so I had to get the rest of the story about this AFV video.
The Story Behind the Video
The woman in the video is Rachel Colvin. She lives in Dugger, Indiana, but she was visiting family over the New Year's Eve holiday when this video was captured.
Garrett tells me that she stepped outside to have a little smoke with her coffee, and the deck was just wet enough to be slick.
She had been outside longer than normal, so my dad checked the cameras and saw her just sitting down on the deck. So he rewound the cams and captured the fall!
The family is having fun making parody videos for TikTok.
Where to Watch AFV
If you have Hulu, you can rewatch episodes of AFV. The episode featuring Rachel is S34 E3 Nincompoops on Parade, Birthdays, and People Scared of Animals. You can also watch it every Sunday night on ABC 25 WEHT. Now, excuse me while I upload my own funny videos to AFV and maybe Alfonzo Ribeiro will laugh at, I mean with me!
KEEP READING: 40 Real Indiana Towns with Quirky, Weird, and Funny Names
Outside the major cities, the Hoosier state is full of tiny little towns you've probably passed through on your way to one of those cities. Most of them are likely 100 to 150 years old, or older, and have been around far longer than the large metropolitan areas such as Indianapolis, Fort Wayne, South Bend, and Evansville. Typically, they were started by early settlers who found their way to the state and decided to make it home. Eventually, others would join them, and a community was formed. Over time, as the surrounding areas grew, most of them were folded into those areas and governed by the nearest city or county's governing body officially making them "unincorporated," meaning they did not have their own formally organized municipal government.
A scroll through Wikipedia's long list of
unincorporated communities in Indiana
shows several of them have names that by today's standards would be considered weird, quirky, or just downright right funny. These are my 40 favorities.
Gallery Credit: Ryan O'Bryan
Freakishly Terrifying Photos of Home for Sale in Illinois Will Either Make You Laugh...or Cry.
Is it freaky? Oh yeah.
Will these scary photos sell the house at 141 E Hoehn St. in Carlinville, Illinois? Who knows. It definitely is a different approach than just putting some photos up on Zillow or Realtor.com with a cutesy description hoping that the right words and images will draw people in.
Not every photo is scary though. Ok, the majority have something hiding. After you see a few of the photos of this house you might even start laughing.
See what happens!
Gallery Credit: Jessica On The Radio