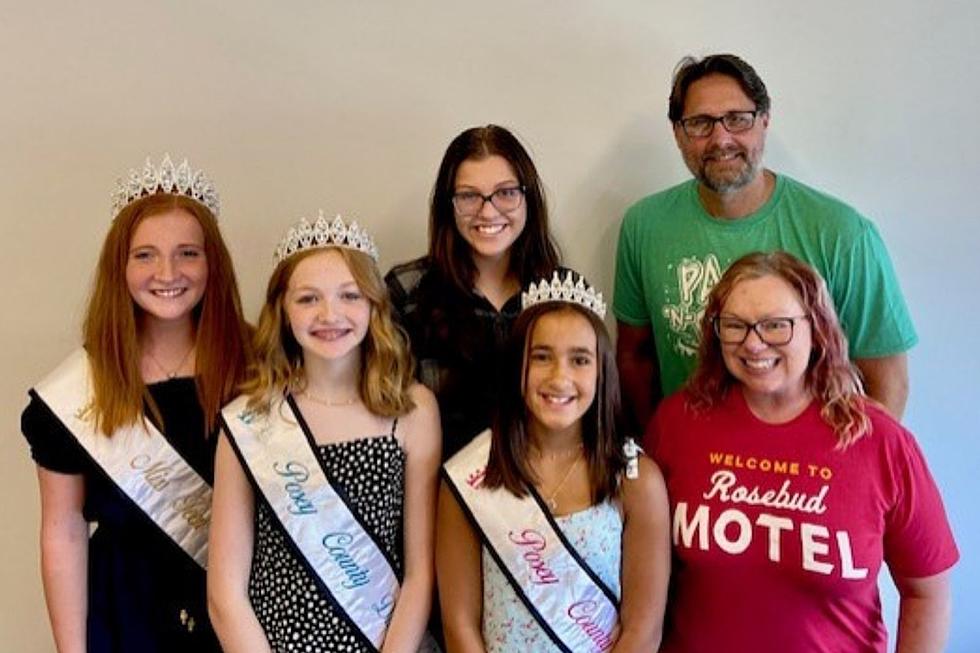 Posey County Fair Royal Court Tell Us What to Expect at the 2021 Fair
From L-R: Amber, Lilly, Danielle, Ella, Bobby, Liberty
We get all kinds of special guests in our studio throughout the year - I'm talking about musicians, actors, comedians, politicians, community leaders, and folks like that. Very rarely, if ever, do we get a visit from royalty. If/When we do, you know that means it is county fair season. Liberty and I recently got a visit from the Posey County Fair's Royal Court - a group of young women about to relinquish their titles after having them for two years.
Please bend the knee and recognize these noble young women...
Miss Posey County: Danielle Perry
Miss Teen Posey County: Amber Allyn
Posey County Duchess: Lilly Chapman
Posey County Princess: Ella Rainey​
I think it is very possible that the current (not for much longer) court might be the only group in the history of the Posey County Fair to hold their titles for more than a year. They were crowned back in 2019 and, thanks to COVID, there was no 2020 fair, so they just kept on representing.
This Saturday, July 17th, the current court will pass the proverbial torch to a new set of winners at the Posey County Royalty Pageant, starting at 6pm. I am honored to, once again, be the MC for this year's pageant. I guess I did a decent enough job back in 2019 that they asked me back. Here's hoping I don't screw anything up.
The ladies were in our studio to tell us about all the things happening at this year's Posey County Fair (July 19-24) and believe me, there is plenty to talk about. Watch the video below for all the 411. There is a lot of information shared here, but perhaps none more important than the discussion that starts at the 6:50 mark. It's a spirited discussion about sheep - I promise it is worth watching.
Visit poseycountyfair.com to see the full schedule - all the dates, times, locations, costs, etc. for each night of the fair.
KEEP READING: What were the most popular baby names from the past 100 years?