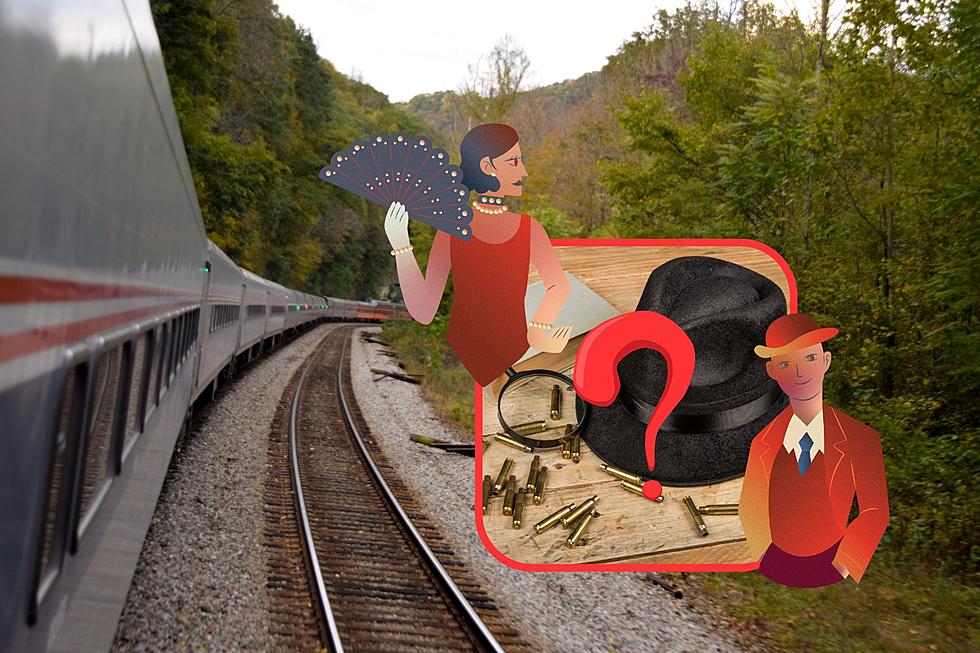 1920s Murder Mystery Dinner Train Ride in Indiana
Canva
Get ready to immerse yourself in the 1920s for a murder mystery dinner train ride in Indiana. Can you solve the murder?
There's a movie that I love watching called "Murder on the Orient Express." It's a murder mystery that takes place on a train. This movie is a classic "Who Done It" with a lot of twists and turns along the way.
I often wonder, while watching the movie, how I would fare in a situation like this. Would I be able to observe everyone on the train to try to find any suspicious activity? Furthermore, would I be able to solve the murder in time before everyone leaves the train? Well, I'm going to have my chance to find out, and so will you with a unique train ride in Indiana this fall.
Roaring 20s Murder Mystery Dinner Express
Prepare to step back into the 1920s with this all-immersive train ride experience. The Nickel Plate Express in Noblesville, Indiana will be hosting a Roaring 20s Murder Mystery Dinner Express for one weekend only on September 30th and October 1st. According to the Nickel Plate Express, here's what you can expect on this unique train ride:
All aboard for a memorable journey that's sure to keep you guessing! While riding through Indiana's scenic countryside, enjoy live music and drinks as you make your way to dinner in Atlanta, Indiana. Keep your eye open for any suspicious characters as you head to dinner.
Once the train arrives in Atlanta, guests will exit the train for a delicious buffet style dinner and music at Earthly Endearments located in Downtown Atlanta, Indiana.
Will there be a murder during dinner? If so, who did it? Guests will mingle and ask questions as the sleuth their way through the mystery. After dinner, guests will board the train and head back towards Hobbs Station while continuing to solve the evenings mystery until the final reveal as we arrive back at the station.
This won't be your only chance to be a part of a murder mystery on the Nickel Plate Express. They'll be hosting a Wild West Murder Mystery in February. Not only that, but they also have several different train experiences throughout the year. You can learn more and get your tickets by clicking here.
LOOK: Highest-rated free things to do in Indiana, according to Tripadvisor
Stacker
compiled a list of the highest rated free things to do in Indiana from
Tripadvisor
.
Indiana Hotel Has Private Pools in the Suites
If you're looking for the perfect anniversary and birthday getaway destination for couples, you should definitely take a look at these suites found in Indianapolis.
16 Indiana Towns with Dirty-Sounding Names
A majority of these towns were given their names in the mid-to-late 1800s as settlers making their way across the country found unclaimed plots of land and decided to make them their own. While I imagine they thought the names they came up with were innocent, and perhaps a tribute to something in their lives, pop culture has warped our minds to the point since then that we can't help but think of something about the town that was never intended by its founders. Take a look at this list. I guarantee there's at least one name that will make you chuckle.