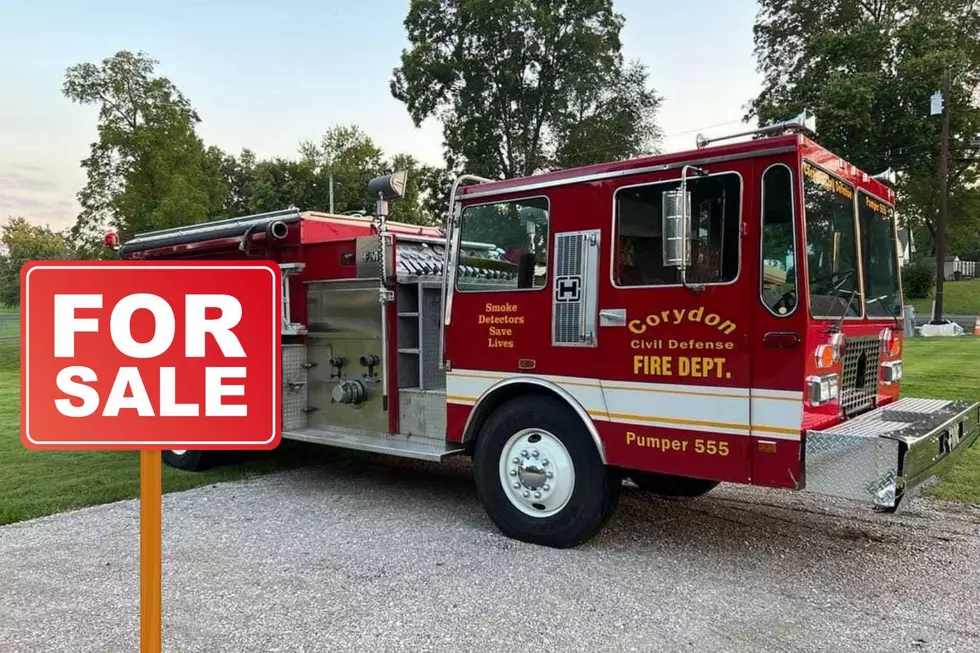 Western Kentucky Fire Department Selling Out-of-Service Fire Engine to the Highest Bidder
Corydon Civil Defense Fire & Rescue via Facebook
There's something fascinating about fire trucks and the job of being a firefighter. Maybe it's the size of the truck or the sound of the sirens blaring as it races toward a fire after the call comes in from 911 dispatch. Maybe it's there's a thrill to the idea of running into a dangerous situation in an effort to save someone's life or put out a fire that is raging out of control. Whatever it is, there's something about the profession that draws in both kids and adults alike. One western Kentucky town is giving you the chance to see what it's like to drive a fire truck by letting you own one.
Corydon Civil Defense Fire & Rescue Accepting Bids for Out-of-Service Fire Truck
Recently, the Corydon Civil Defense Fire & Rescue in Corydon, Kentucky, about 10 miles southwest of the city of Henderson, announced on Facebook they were accepting bids for the fire truck pictured above they no longer use. Or, as they call it, "surplus equipment."
According to the post, the truck is a 1985 model Hendrickson FMC with a Detroit 6V92 diesel engine, airbrakes, a 1,250-gallon water tank, an on-board generator with an 11 horsepower Briggs and Stratton Engine featuring 5,500 watts, 120/240 volts, 46/23 amps, and 60-hertz, and two hard-mounted lights. One ladder and a hard suction hose will also be included.
They say the truck does run and was just taken out of service on September 10th. However, the post does not specify why the truck was removed from service. It has 75,124 miles on it, 2,828 engine hours, and a working pump capable of pumping out 1,250 gallons of water per minute.
How to Place a Bid
The department has set a reserve of $4,000 for the truck and is currently accepting bids until Tuesday, October 11th at 5:00 PM. The department says it will review all bids and has the right to accept or reject any bid submitted that is higher — or lower than the reserve amount.
If you'd like to get an up-close look at the truck before making a bid, the department is allowing you to do so by appointment which you can make by emailing Corydoncd@hotmail.com.
If you score the winning bid, you'll have 10 days to pay for it and take it off their hands. You'll also be responsible for having all the lettering removed as soon as possible, along with any fees, taxes, etc. associated with the purchase.
To place a bid, e-mail the amount you're willing to pay to the same e-mail address you'd use to set up an appointment to see it in person.
There are Some Stipulations
Let's say, just for fun, you make them an offer they can't refuse and you are now the proud owner of a 1985 out-of-service, fully functional, fire engine. Does that mean you can finally live out that childhood dream of putting out fires? Sorry, but the answer is no. Before you they even let you take the truck, you'll have to sign a form they'll keep on file with the Federal Emergency Management Agency (FEMA) stating you will not use it to fight fires. Signing that form will also acknowledge that you agree not to turn around and sell it to another fire department. The Facebook post doesn't specify why they don't want another fire department to have it, but I assume it's because they've already listed it as an out-of-service vehicle.
Here are a few different looks at the truck, courtesy of the department.
When emailing your bid to the department, they ask you to put "SURPLUS ENGINE" in the subject, and don't forget to include your contact info (name, age, phone number, etc.).
Good luck!
LOOK: See the iconic cars that debuted the year you were born