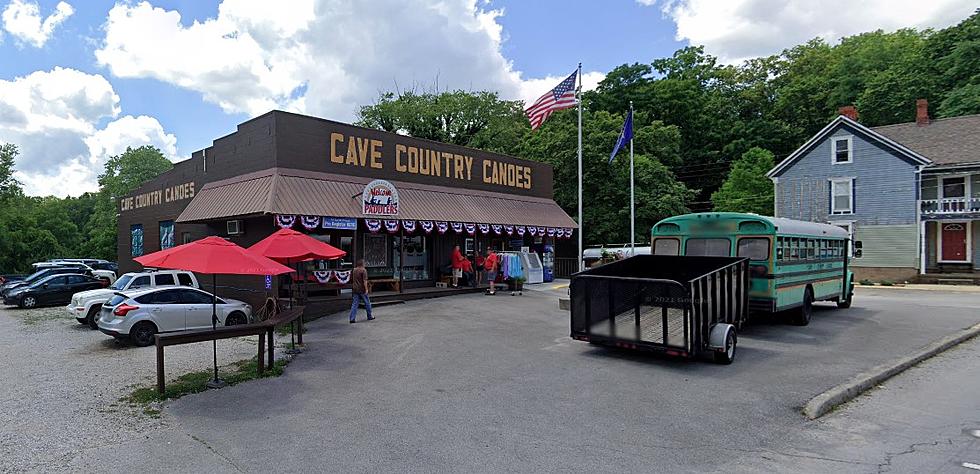 Ready for Canoe Season? Indiana's Cave Country Canoes Are Open for 2022!
Google Maps
I don't know about you, but I have cabin fever like nobody's business! I'm craving sunshine and fun things to do outdoors. Unfortunately, our start to April has been less "springy" than we're used to, but warm weather IS around the corner!
Cave Country Canoes' 2022 Season is Underway!
If you don't mind the cooler temps and want to enjoy some time outside, Cave Country Canoes is officially open for the 2022 season.  They are open on weekends only in April but open on weekdays starting in May.
But don't load up the cooler just yet
With the weather being kind of all over the place this time of year, keep an eye on the Cave Country Canoes Facebook page because they will be closed due to bad weather or chilly temps.  For instance this weekend they will be closed until Sunday.
Closed Saturday 4/16. (Low temps)

Open Sunday 4/17!
Ready to plan your canoe trip?
If you have never been canoeing down the Blue River, it's seriously SO much fun!  You can choose to do a half-day trip, a whole day trip, or even break it up into a two-day adventure and camp too.
Here's what the half-day trip consists of:
Our half-day trip starts 7 miles upstream from our Milltown base and showcases upper Blue River. You will be transported to the river via bus or van. At our private ramp, our friendly staff will help you into your canoe or kayak.

Sit back. Relax and enjoy all Blue River offers including rapids, islands, sand bars, nature, wildlife, and springs.

 
Here's what the whole-day trip consists of:
Our full-day trip begins in Milltown, behind our base, and takes you downstream through 14 scenic miles of lower Blue River. This trip is much more remote and will take between 5 and 7 hours. Time varies based upon river conditions (see below) and your personal pace - you may take longer to fish, picnic, swim, or explore gravel bars and islands.

Our full-day, 14 mile trip, is NOT recommended for beginners or children under the age of 12.
Our two-day trip combines the half-day and full-day trips. The night between your trips you will stay at our campground in Milltown, Indiana. After you have setup your campsite, we'll get you on your way.
If you're ready to book your paddling adventure, check out CaveCountryCanoes.com and you can reserve your spot.  I'll be waiting until it's a little warmer, but once it's warmer I'm definitely going to be enjoying a day of paddling down the river!
Take An Underground Boat/Kayak Tour In This Kentucky Cavern