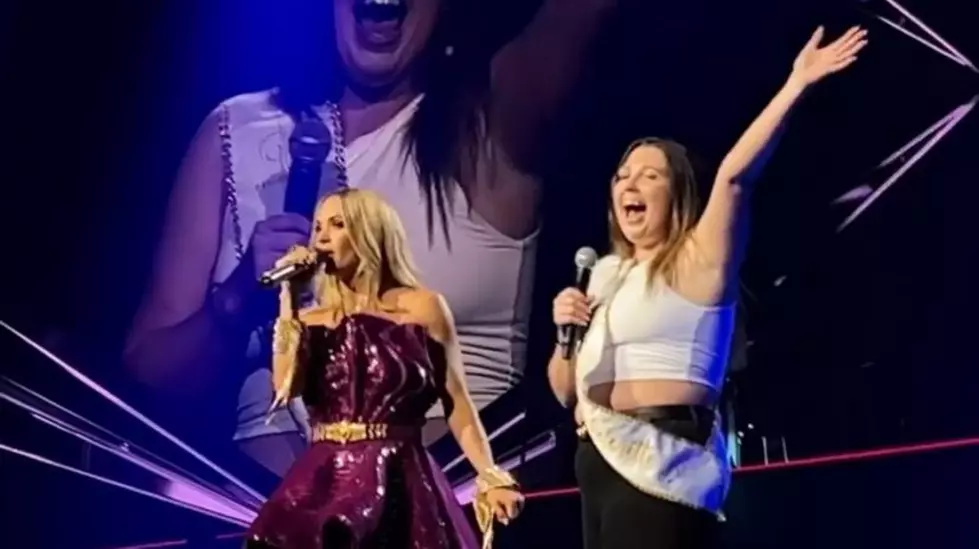 Owensboro, Kentucky Bachelorette Sings on Stage with Carrie Underwood in Las Vegas
Sydney Smith/Facebook
Whitney Galloway of Owensboro is getting married this October, but she's already celebrating in Las Vegas.  She and Sydney Smith, her co-Maid of Honor at the upcoming nuptials, are in Sin City for a little "pre-bachelorette" party.  And, last night, at Carrie Underwood's concert at Resorts World Las Vegas, that party turned absolutely EPIC!
Sydney is a huge Carrie Underwood fan. As a matter of fact, she has already seen Carrie's Las Vegas show.  She saw it back in December.  Because she was familiar with the set list and things that happen during the concert, she knew that Carrie has been bringing brides-to-be up on stage for her performance of "All-American Girl."
Interesting and fun fact from Sydney (unofficial but dedicated Carrie Underwood historian), this is a Carrie tradition that dates all the way back to 2008 when "All-American Girl" was first released.  On that concert tour, Carrie would ask little girls to join her on stage for the song. Well, now that she's performing in Las Vegas "where there are no little girls", Carrie's bringing up brides-to-be and letting them belt out the song with her.
That's where Whitney comes in.
Whitney is getting married to her fiance October 8th. She and Charlie McFarland started dating back in 2018 and he proposed to her on December 31st, 2020.  Naturally, she was "Blown Away" by his proposal and said, "YES!"
Oh, wait!  This is hilarious.  They're getting married on October 8th at the RiverPark Center in downtown Owensboro and are then heading off to Miami for a honeymoon aboard the Virgin Voyages Scarlet Lady on October 9th. That's the same ship and same cruise I am taking a bunch of folks on for Take a Virgin Voyage with Chad!  Yes!  We're crashing Whitney's honeymoon.  LOL!  I told her, "Girl, you're basically going to have two receptions!"
Now, back the pre-bachelorette party.  Whitney and Sydney flew into Las Vegas yesterday and were at Carrie's show last night.  Because she was familiar with how this particular part of the concert works, Sydney knew what Carrie's crew member, who goes out in the crowd and scouts for that night's "All-American Girl" duet partner, looks like.  So, Sydney told Whitney "We're going to make this happen."  And they did!
Another Carrie staffer saw that Whitney was wearing a sash that said, "Bride to Be." They asked her if she knew the words to the song and if she wanted to sing on stage with Carrie.  Well, naturally, Whitney, like she did with Charlie, said, "YES!!"  I mean, let's be real about it.  Sydney had been planning this for months and it worked out perfectly.
So, here it is!  The video from Whitney's Las Vegas debut!
How freaking awesome is that?
After her performance, Whitney was presented with a brand new, Carrie Underwood-autographed sash that reads, "All-American Bachelorette."
Whitney and Sydney are in Las Vegas through Sunday.  Naturally, they haven't gotten enough Carrie so they're going back to the show Friday night.  As Sydney put it, "Now that we're grown ups and have money, we're going on vacation!"
Well, there's no doubt that it's been a vacation to remember and quite possibly one of the most epic pre-bachelorette parties ever.  Now Whitney, just wait til that honeymoon. What happens in Vegas didn't stay in Vegas and what happens down in Mexico won't either!
"
"