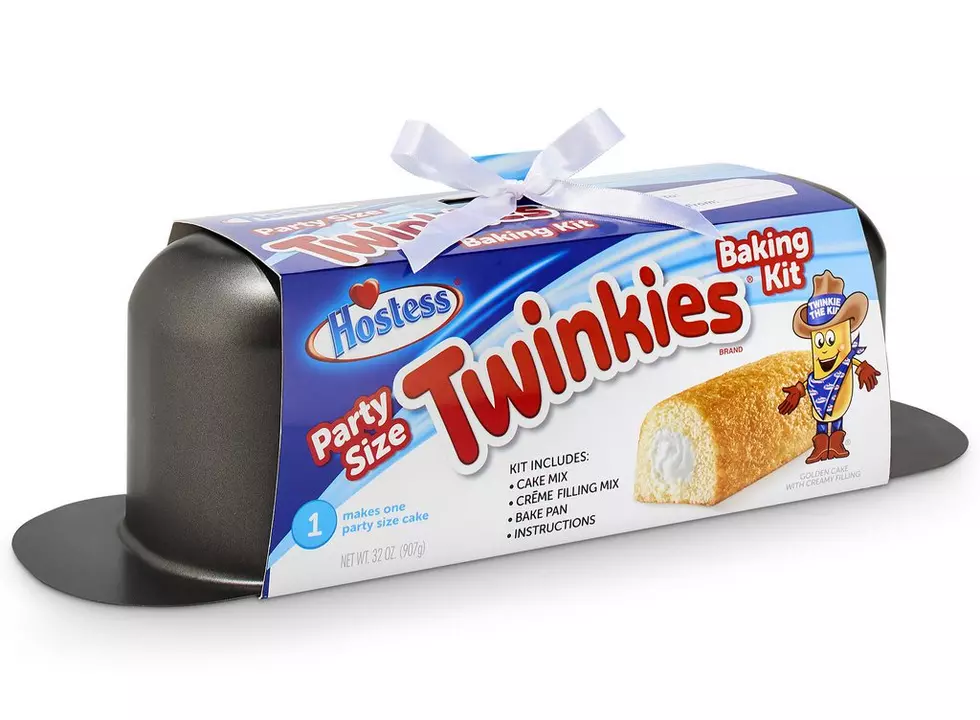 Make a Giant Twinkie in Your Kitchen with This Special Baking Set
Walmart.com
Twinkies are the quintessential snack cake. Biting into one instantly takes me back to being a kid at my grandparents house. My mom would clean their house on Friday's and I would tag along. Grandma always seemed to have a box in the cabinet and would let me have one because that's what grandmas do. Fast forward to today, and while I don't eat them often, every once in a while I'll grab a two-pack at a convenience store while I'm getting gas not only because of the memories they stir up, but even after all these years, they're just so darn tasty. Of course sometimes, even though we know it should be, two just aren't enough. Thankfully, Hostess has to given us a way to make our own giant versions of the sweet treat at home.
Available exclusively at Walmart stores and the Walmart website, the "Party Size Twinkies Baking Kit" has everything you need to bake your very own giant Twinkie including the yellow cake and cream filling mix, instructions on how to put it all together, and of course a baking pan shaped just like a Twinkie.
When I did a zip code search on the website to check the availability at Walmart locations in the Tri-State, all three Evansville locations, plus the Henderson and Owensboro location were listed as out of stock. However, both the Newburgh and Boonville locations showed they had some. Keep in mind, the website does not update automatically when products are sold, so while it may show that those two locations have some on the shelf, it's entirely possible they don't and the website hasn't updated to reflect that yet.
I won't lie. I'd like to have one of these, and for just under $15, even if I only used it once, it would be money well spent in my opinion (although my wife's opinion may be a little different). I would totally bake one, then cover it in a chocolate ganache so it would be like a giant chocolate-covered Twinkie, the best Twinkie if you ask me.
Supposedly it's big enough to feed 12 people. But let's be honest, if you made it and ate it all yourself, would anyone judge you considering what kind of year 2020 has been? I certainly wouldn't as long as you promise not to judge me when I do it.
Enter your number to get our free mobile app
KEEP READING: 15 Snack Foods We Want to See Make a Comeback
Enter your number to get our free mobile app
11 Essential Gas Station Food Groups