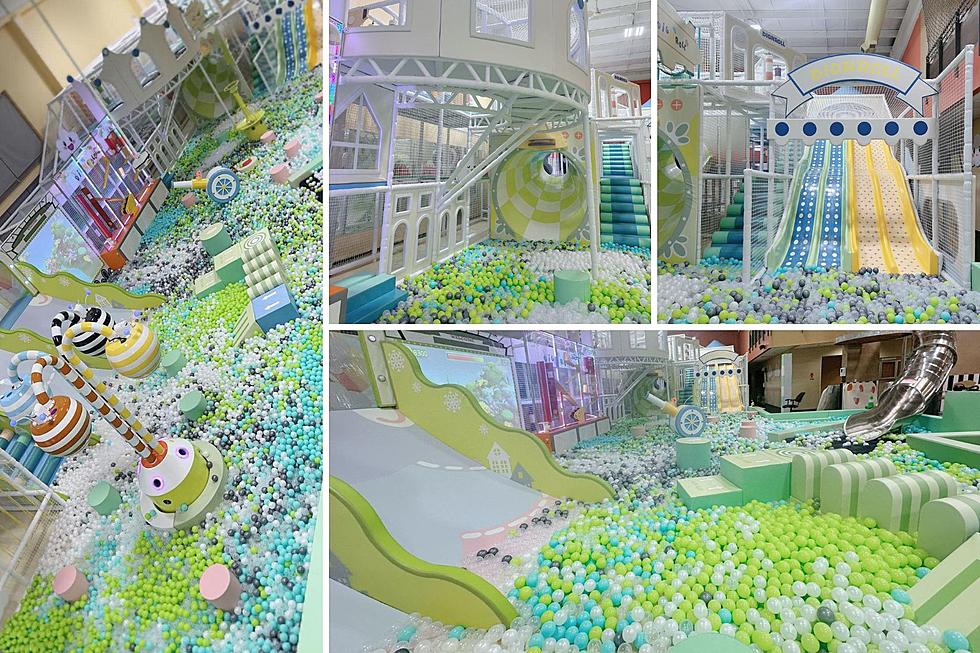 First Look at Evansville, Indiana's Newest Indoor Playground
Dig 'N Roll Facebook
Dig 'N Roll will be opening up on Evansville's east side, and you have got to see what this place looks like. It's amazing!
When I was a kid, that go-to place for kids was Discovery Zone in Evansville, Indiana. Every 90s kid loved going there. The slides, tunnels, ball pits, and games that Discovery Zone was so much fun. It was truly one of the most memorable aspects of my childhood.
As you know, Discovery Zone went bankrupt, and it left a huge void in fun places for families. It took nearly twenty years before Evansville got another massive indoor playground. Last year, Deep Blue Indoor Play opened up on Old Boonville Highway near Burkhardt. The facility is an underwater-themed indoor playground in Evansville will allow you, your friends, and your family to "Party, play, and climb under the sea." This two-story commercial building has nearly 20,000 square feet of slides, tunnels, climbing structures, and more.
This place really reminds me of my childhood. I know for a fact that kids today are clamoring for more places like this in the Evansville area to visit. Especially on those cold winter days or even rainy days when there really isn't much else to do. Well, as the old saying goes, "If you build it, they will come."
New Indoor Playground Coming to Evansville's East Side
A new indoor playground is in the works for Evansville.  Dig' N Roll plans to open a new indoor playground in the former BFit by Bob's: Gym + Fitness building, which is located just off E Virginia Street and Cross Pointe Boulevard. We first brought this to your attention back in August. At that time, there weren't that many details available. Now, however, we have our first look at Dig 'N Roll.
This place looks awesome. Actually, it makes me wish that I were a kid again. I mean it looks like a ball pit sea with slides, tunnels, activities, and more. According to Dig 'N Roll's website:
Dig 'N Roll has a variety of play zones. A large ball pit combined with obstacle course adventures, a sensory-friendly indoor sand pit, a splash water area, an infant & toddler area, and a playhouse area. We provide endless opportunities for children to explore, learn, and make cherished memories.
Dig 'N Roll also features a place for families and adults to sit back and watch the little ones have fun. This lounge area features include comfy seating, lake view lounges, and a cafe serving your favorite foods and coffee. Plus, they offer a private and comfortable nursing room for breastfeeding moms, ensuring a stress-free and nurturing experience for both you and your little one. Pretty cool, right?
Their website says that they plan on opening sometime in November of 2023. So, you can visit their Facebook page for all of the latest updates!
Restaurants We Want to See in Evansville in 2023
We asked you on social media, and these are 20 of the top restaurants that you would like to see come to Evansville in 2023. It might be wishful thinking, or we could be putting it into existence. Only time will tell!
Gallery Credit: Travis Sams
See How Much North Green River Rd in Evansville, Indiana has Changed over the Years
Thanks to Google Maps we can travel back in time to see how much Evansville, Indiana has changed.
Gallery Credit: Liberty
The Definitive Evansville Area Food Truck Guide
We are very lucky to have such a wide variety of food trucks serving the Evansville area. This list contains the majority of the food trucks that we love.
Gallery Credit: Liberty