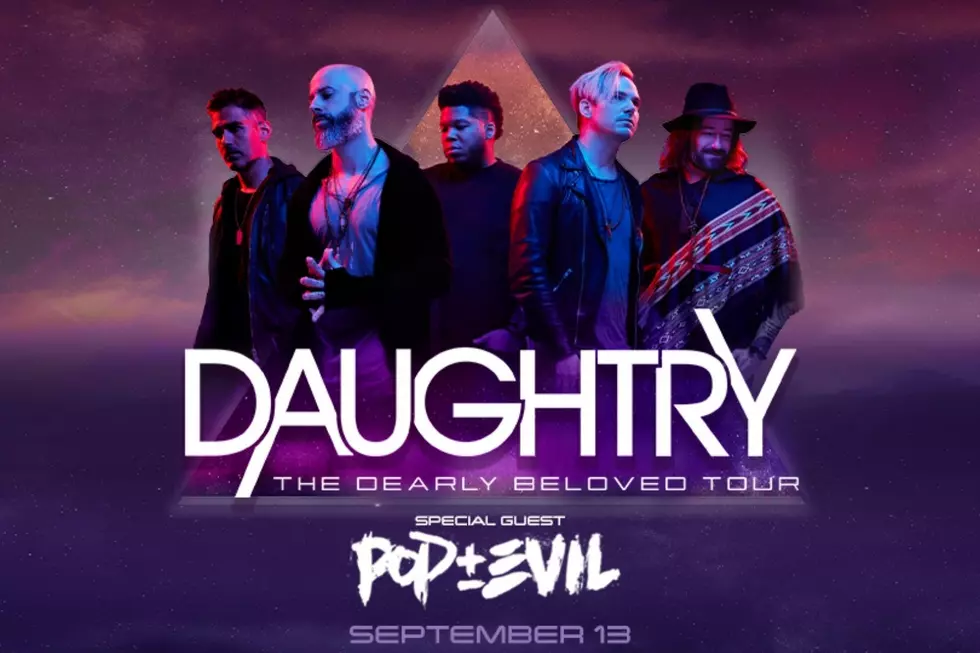 DAUGHTRY 'The Dearly Beloved Tour' 2022 Coming to The Old National Events Plaza Evansville, Indiana
DAUGHTRY
Ok friends, we finally have a rock concert that we won't have to 'Leave This Town' for. I am personally so excited about this show that I am willing to stay up past 8:00 PM on a weeknight!
The Dearly Beloved Tour
At first glance, it looks like Daughtry is channeling a little Prince for their 2022 tour. Dearly Beloved is actually the title of their latest album featuring thirteen amazing songs.
SEPTEMBER
Any guesses which month Daughtry is coming to Evansville, Indiana? True fans will appreciate all of the song references, and yes the concert will be in September.
Life After You - American Idol
It's easy to forget all of the big stars that had their careers launched with American Idol, even though they did not win. Chris Daughtry competed in Season Four, and actually came in fourth place! That was in 2006, and I've been a fan since the beginning.
Even Minnie Mouse is a Daughtry Fan
Pop / Rock / Country
When Chris Daughtry gets into the acoustic mode, you can definitely hear the Tennessee influences. He does live in Nashville and is pictured here with the legendary Vince Gill.
Win Tickets
Download our app, so you can play DAUGHTRY TRUE OR FALSE (8/16/22)
After you download the app - Turn on EXCLUSIVE notifications.
Send us an App Chat with the answer to this question:
 DAUGHTRY'S BIRTHDAY IS THE DAY AFTER CHRISTMAS - TRUE OR FALSE?
Send YOUR ANSWER THROUGH THE MY 1053 APP USING THE CHAT FEATURE AND WE'LL PICK 1 WINNER FROM THE CORRECT ANSWERS.
CONCERT INFO:
What:   Daughtry with special guest Pop Evil
When:   Tuesday, September 13, 2022, at 7:30 PM
Where:  Old National Events Plaza | 715 Locust Street | Evansville, IN 47708
Tickets: Tickets start at $32.00 plus applicable fees and tax.
Special Guest - Pop Evil
 Pop Evil has been a staple rock band at major festivals, theaters, and clubs for nearly two decades. It's likely that you have seen them in Evansville in the past. The band has celebrated several No. 1 Billboard Rock singles like: "Trenches," "Deal with the Devil," "Torn to Pieces," "Footsteps," and "Waking Lions." Collectively, Pop Evil's previous five albums account for over a million copies in worldwide sales and over 600 million streams.
Kid Rock's Detroit Mansion Sells + He Only Grabbed His Clothes
The mansion looks like 'Kid Rock grabbed his underwear and shirts and just took off.'
18 of the Best Wineries Around Southern Indiana