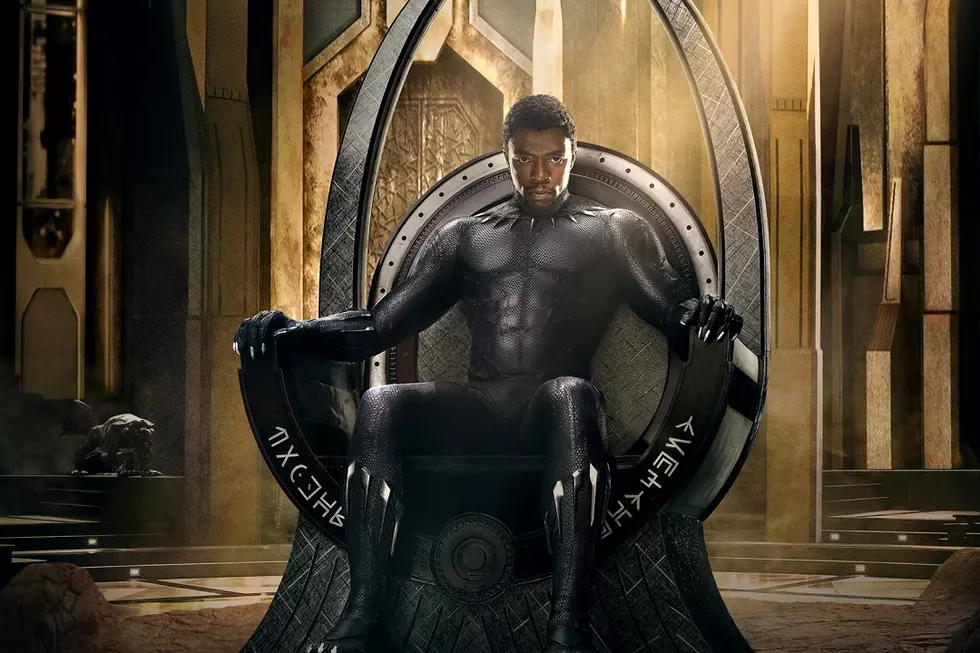 7 Celebrities Who Provided Kids Free Screenings of 'Black Panther'
Marvel
Back in January, Frederick Joseph started the Black Panther Challenge, a GoFundMe campaign to raise money for kids in Harlem to see Black Panther in the theaters. After raising over $40,000, Joseph encouraged other communities to do the same. Celebrities all over the country followed suit, renting out theaters and treating children to the powerful film about the iconic Marvel character—and the comic book world's first black superhero.
Black Panther has broken numerous box office records since its release on February 16, and it doesn't look like its losing any steam. With celebrities like Serena Williams, Kendrick Lamar and even King T'Challa himself, Chadwick Boseman, treating kids to free screenings of what may be the most inspiring film to come out of the Marvel Cinematic Universe, Black Panther has become so much more than a superhero movie.
Here's a look at all the celebrities who decided to pay it forward and take kids to free screenings of Black Panther.
1

On February 25, The Greatest Showman star teamed up with entrepreneur Michael Skolnik to take 300 kids from her hometown of Oakland, California to see the film.




2

On February 17, Kendrick Lamar and his record label TDE hosted screenings for kids living in Los Angeles housing projects

TDE CEO Anthony "Top Dawg" Tiffith bought out five shows in three different theaters, allowing children from Nickerson Gardens, Jordan Downs and Imperial Courts Projects to view the film.

Lamar and TDE also curated and produced the movie's outstanding soundtrack, which spawned "All The Stars."

3

The star of Black Panther treated youth in his hometown of Anderson, South Carolina during opening weekend.

King T'Challa purchased 312 tickets at the local Amstar theater so kids could watch the movie. According to Tammy Hembree, senior manager at Amstar Stadium 14, 460 of the actor's family members and friends also attended screenings during the opening weekend.

4

As if the free viewing wasn't exciting enough, the tennis star gave the girls another treat by personally attending the event.

"I'm glad you guys could make it out," Williams says in a YouTube video. "Obviously this is a huge moment for us and for black people. We've never had a superhero movie so we're so excited and I feel like I've waited my whole life for this...I'm glad you guys came."

5

The Texan rented two theaters in Stafford, Texas, so kids could enjoy the movie as much as he did. "I LOVED BLACK PANTHER SO MUCH [I] RENTED TWO MOVIE [THEATERS] FOR THE KIDS TO WATCH," he wrote on Twitter.




6

Octavia Spencer gave an underserved community in Mississippi a wonderful gift when she bought out a theater "to ensure that all our brown children can see themselves as a superhero."

The Oscar-winning actress ended up buying out the Cinemark Pearl on February 17, and included a small popcorn and drink for families as well.

7

Just before Valentine's Day, T.I. gave moviegoers a sweet gift by announcing an advanced screening of Black Panther in Atlanta.

The rapper teamed up with Walmart to give away 300 tickets to see the Marvel film. "Me and @Walmart joined efforts to support the community with free tickets for customers to attend an Advance Screening of @MarvelStudios @theblackpanther," he tweeted. "We gave away 300 tickets to deserving families yesterday at the Cascade Walmart store. #BlackPanther."