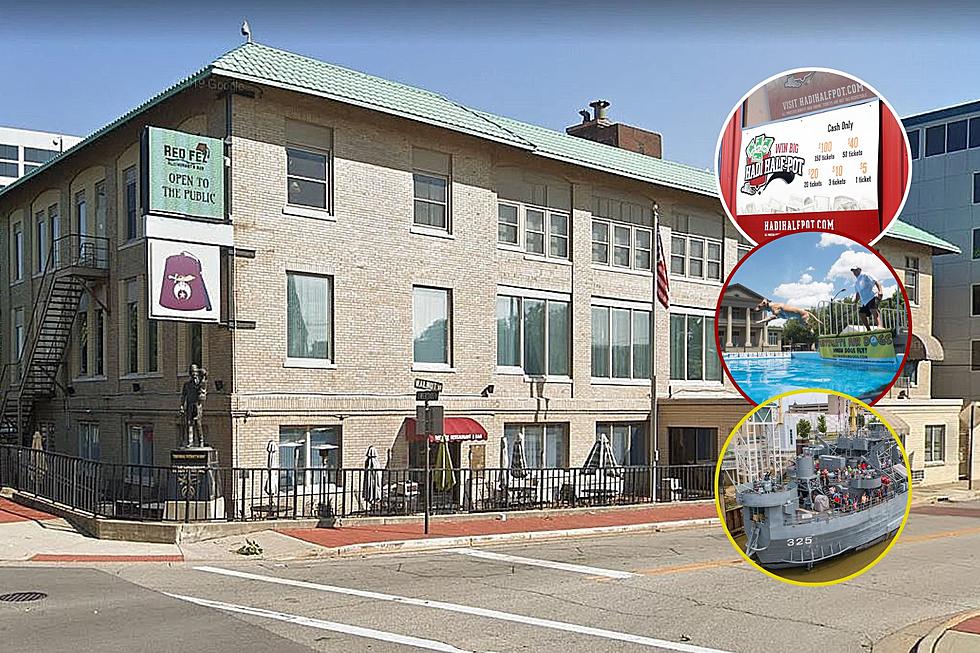 Hadi Shrine Announces Return of Half-Pot and Shrinersfest
Alex Morgan Imaging / Hadi Shrine Temple / Google Maps / Canva
Summer in Evansville means the return of many of our favorite outdoor events including the Hadi Shrine Temple's Shrinersfest along Riverside Drive. Representatives from the Temple held a press conference on Monday to unveil what residents can expect at this year's event, along with information on the return of the Hadi Shrine Half Pot fundraiser.
Ticket Sales for Hadi Shrine Half Pot Begin Friday, May 26th
With the tremendous amount of success the West Side Nut Club has experienced with its annual half-pot drawing during the Fall Festival over the past few years, many other organizations in the area have turned to half-pot drawings as a way to try and raise a large number of funds in a short amount of time, including the Hadi Shrine Temple who have incorporated a half-pot drawing into Shrinersfest the past couple of years. Last year's drawing raised over $240,000 with the winning ticket getting $120,000.
Tickets for the 2023 Shrinersfest Half Pot go on sale Friday, May 26, and will run until Saturday, June 24 with the grand prize drawing scheduled to take place at ShrinersFest on Saturday, June 24 at 8:00 PM Central.
You can purchase your half-pot tickets at any one of the Hadi Shrine ticket booth locations listed below.
Evansville
501 N. Green River Rd. (former Acropolis location)
Lloyd Expressway & St. Joseph Ave. in the old Mead Johnson parking lot
4400 N. First Ave. next to Burger King
Hadi Temple in the Hadi Shrine Circus ticket building at Riverside & Walnut
Huntingburg
705 N. Main St. - Former Family Dollar
Princeton
2020 W Broadway St.- Lupe's Mexican Grille
Vincennes
2655 N Sixth St. - Rural King

Sales will happen every Friday from 11:00 AM - 6:00 PM,  every Saturday from 9:00 AM - 5:00 PM, and every Sunday from 11:00 AM - 6:00 PM, with the exception of the Hadi Shrine ticket office at the corner of Riverside Drive and Walnut Street which will sell tickets from 11:00 AM - 5:00 PM every Monday-Friday.
Pop-up ticket booths will also be set up at the May 30th and June 20th Evansville Otters home games at Bosse Field.
For a map showing each ticket booth location, visit the Hadi Half Pot website.
2023 Shrinersfest Set for June 23rd & 24th
For the second consecutive year, the 2023 Shrinersfest will be a two-day event instead of the week-long affair it had been for several years. This year's event will take place from 10:00 AM until 11:00 PM on Friday, June 23rd, and from 9:00 AM until Midnight on Saturday, June 24th. This year's event will once again feature all the things previous versions have included such as food from area food trucks, live music, and a beer garden. It will also include the return of the popular Dock Dogs, a car show, inflatables for the kids, and a cornhole tournament.
New attractions at this year's festival will include a World War II reenactment put on by the Evansville Wartime Museum and the LST 325, along with a 5K race hosted by the YMCA and Liberty Federal Credit Union. The race will take place at 7:00 AM on Saturday before the festival officially opens for the day. Registration for the race is open now.
Admission to the festival is free. You can find the complete schedule of activities for this year's event at Shrinersfest.org.
[Sources: Hadi Half Pot / Shrinersfest]
The Definitive Evansville Area Food Truck Guide
We are very lucky to have such a wide variety of food trucks serving the Evansville area. This list contains the majority of the food trucks that we love.
Evansville Area Breweries
There's nothing better than sitting on the patio and enjoying an ice-cold locally brewed beer. Here's where you can do just that in the Evansville area.